As many of our friends and followers will be aware, the state of Queensland in Australia, where
Kirsten
resides, has been struck by devastating floods. A third of the State, an area the size of Texas!, has been declared a disaster zone. I am relieved to report that both my family and Kirsty's family are safe and secure but when the waters subside, the community faces a heart breaking clean up and and formidable recovery task.
Australian blogger,
Toni Coward of Make it Perfect
is coordinating a fantastic initiative which addresses our instincts to make or do something
AND
raises funds to assist the flood victims. She has organised an online auction with all proceeds going to the
Premier's Flood Relief Appeal
. You can find the details by clicking on the link below: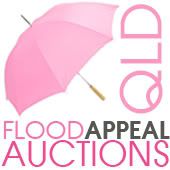 .
I am offering one of my signature art quilts to assist in the fund raising efforts. My offer relies on the generosity of those reading to bid an amount they are willing to pay for the item and commit to pay that amount into the Premier's Flood Relief Appeal. I am auctioning
When the Waters Subside
(12x12in)*:
If you would like to add
When the Water Subsides
to your collection, then the rules for participating in this auction are very simple. Pop over to the
Queensland Flood Appeal Auction
page on my blog and place your bid - international bidders are welcome. Spread the word.
*Yes, that's one of my three Eggplant pieces - after all I only need one to go into the official Colourplay collection. My trilemma is now a simple dilemma and I know which way I am leaning.